As a positive result, I transformed ELEC 270's tutorials for synchronous delivery while also incorporating active learning techniques. The course's professor was very positive about these changes and the course's other TAs were engaged throughout, making recommendations about how to improve tutorials and suggesting supplemental materials.
Unfortunately, a consistent thread from students throughout the semester was that they disliked active learning and that they wanted to be given solutions to tutorial questions. Constructively, one student identified that their difficulty was with approaching problems: it is hard to get into solving a problem when you can't get it started. And although our goal was to provide intuitive explanations when presenting solutions, students wanted to see the textbook rigour they would be asked for during exams. We tried taking all of this on board, while maintaining the active learning that I truly feel can be effective, but at the end of the day, balancing rigour, accessibility, and duration was very difficult for TAs to manage.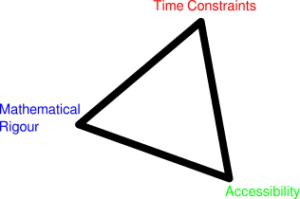 My end-of-semester survey reported that I had a minimal impact on students. We received little feedback, which makes it difficult to be certain, but tutorial participation was lower than in previous years (at ~18% compared to ~30% in previous years) and student feedback for the course's tutorials was either muted or leaning negative. My observation and the students' feedback paint a picture of non-engagement. It is hard to know what impact COVID-19 and burnout from remote learning had and there is no counterfactual semester to compare this one against, but I do feel that this year's students did not get the level of instruction from the course's tutorials that past students have received.
The three biggest issues identified throughout the semester's tutorials were that students want solutions to questions, that TAs need less material to focus on during 50 minutes, and that students need to be able to attempt tutorial questions in order for the active learning aspect of tutorials to be useful. The three main suggestions that I made for Winter 2022 were:
That each tutorial should consist of a single question, rather than one question per TA (for a total of three questions). This would allow TAs more time to go over the solution at the end of the tutorial. This approach also avoids presenting students with unsolved questions.

The tutorial question should be included in the week's assignment, rather than presented separately. This would cue students to attempt the problem before the tutorial and, potentially, allow them to identify their difficulties with this problem at the beginning of the tutorial.

Tutorials should have a specific soft skills lesson. This would be an opportunity for some academic professional development, with the graduate student TAs passing on ideas about how to parse mathematical statements, how to construct mathematical arguments, and how to write mathematical ideas.